Together we can start the virtual sailing season!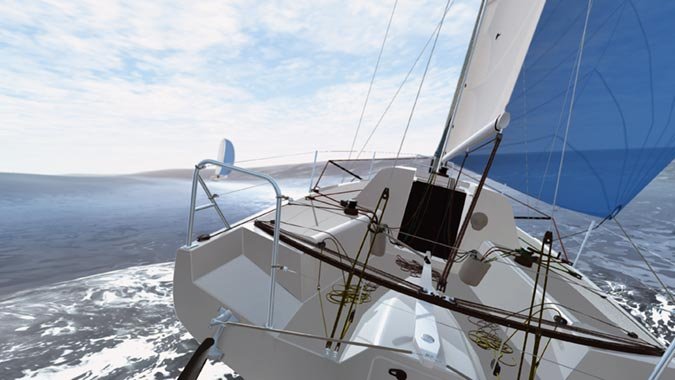 Published 20:44 on 24 Mar 2020
Your illustrious web team are only too aware of how difficult the current 'lockdown' situation is for so many people. Whether you are confined to a single room while self-isolating, juggling home-working with home-schooling, or perhaps concerned about your job (and everything else in between), we want you to know that your friends in the club are here to support you.
It was in a virtual council meeting that I blurted out "BUT HOW AM I GOING TO PAINT MY BOAT NOW?!", which must have sounded like the most 'spoiled child' phrase that ever left my mouth. Immediately afterwards I called my Dad, who some of you will remember I recently dedicated a blog to after his cancer diagnosis, who confirmed he had received his terrifying text message from the NHS informing him that he needed to 'shield' himself to survive. He reminded me that he would die if he caught this virus and people who weren't following the strict Government guidance would essentially kill him - just the cheer up I needed, cheers Dad! Although of course he is right, we all have a responsibility to look after each other and our amazing NHS in this unprecedented time of difficulty, that conversation reminded me of how much we all cling to the things that make our lives feel 'normal' (whatever that is). For me, having the boat that my Dad sponsored after his diagnosis as a constant focus, and the many friends I have in the club who have helped with every aspect of my sailing life, has been a critical factor in maintaining positivity throughout the difficult times. So in the end I don't feel too bad about my 'spoiled child' reaction to the latest Government announcement. I will of course be strictly observing the new rules, as I hope you all will, but allowing myself the understanding that missing normality and the physical support that comes from attending club events is totally acceptable.
The obvious next step was to find something to provide that normality again within the new rules and hopefully share that with others. The keen-eyed amongst you will have noticed that the image accompanying this post is of the Sailaway Simulator which I have taken from this brilliant article: https://www.boatus.com/magazine/archives/virtual-sailing-simulator.asp. Perhaps a sailing simulator is the way to go, or I suppose I could finally get back to studying the RYA's Day Skipper Theory which I am doing online, but neither of those things are really enabling a 'club feel'.
We might not be able to start the sailing season as we planned. Certainly, Hopscotch's lift-in will have to be delayed while we give her a beautiful new paint job. There are no rules against starting off the sailing season virtually though! While we're apart, let's use this time to remember all the great sailing trips we've all had, and offer those stories to others who need a good giggle from their homes now. Every day we will be adding another fictional (probably based on some real life experience, exaggerated for amusement purposes) sailing report, whether that be a race or a cruise.
We'd love for you all to join us in this effort to raise the club's spirits together. If you'd like to contribute, please email the webteam with your hilarious stories. You can read them on this page.
Louise
Last updated 11:04 on 4 May 2022