Cruise in Company - 16 August 2020
The morning forecast was not great, but it didn't stop a large group of members (including our esteemed Commodore) turning up for our latest 'C in C' event. In fact, the weather proved to be kinder to us than the forecast and not only did it stay dry all day, an ENE breeze stayed constant throughout the day and gave us some excellent sailing.
Boats participating in the event were:- Amare, AmyK, Cockenzie Lass, Georgia Moon, Hoodlum, Idothea, Myrine, Solveig, and Tidecatcher (new member Chris sailed his dinghy 'Lily' direct to Aberdour and then returned to Granton).
With an incoming tide in our favour it was decided to pay a visit to one of our favourite destinations, Aberdour Harbour. To make the event a bit more interesting, the fleet was invited to sail upriver and to enter 'Mortimers Deep' from west of Inchcolm. Then, keeping Inchcolm Island to Starboard, to head east to Aberdour Harbour.
The breeze took us briskly westwards, where the fleet had to carefully avoid a large oil tanker making its way upriver. We then turned east into Mortimers Deep and (having turned into the wind) beat our way up the deep-water channel towards Aberdour. AmyK's skipper Hugh Dignon had an exciting moment when he got a bit too close to the Meadulse Rocks (he said he couldn't see them for the genoa !!) but thankfully this didn't stop him arriving safely at Aberdour. Aberdour Boat Club had been advised of our planned arrival and members were there to welcome us into the harbour and to kindly offer us the use of their clubhouse facilities.
With all the boats safely berthed, the group gathered on the pier to enjoy refreshments (all non-alcoholic it must be said) and to exchange some good banter. In an air of hopeful anticipation, Trevor Wilson moved expectantly amongst the group hoping that someone would offer him a glass of wine; but no-one did (he got a cup of coffee from Tidecatcher)!
A group photograph was then taken (whilst respecting social distancing), along with various photos of the boats and members.
Having enjoyed a couple of hours in the harbour, the fleet began to depart in the early afternoon and we all enjoyed a cracking 'reach back to Granton, although Gordon Robb was extremely agitated when Tidecatcher just managed to beat Georgia Moon back into the harbour (having given her a quarter mile start) !
Everyone arrived back safely and reminisced about a thoroughly enjoyable day on the water.
The next C in C is planned for August 30th, watch out for further updates.
B Robertson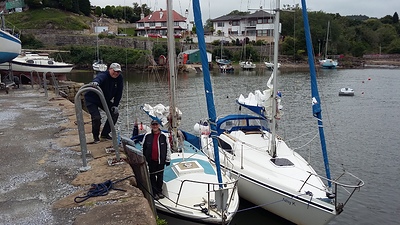 Last updated 12:54 on 17 November 2022