The Maintenance Edit
Published 19:42 on 10 Mar 2020
Here in two thrilling parts is an account of "Winter Maintenance." First you'll hear from Louise, the hero of this story. Then you'll hear from Mark, an itinerant day-dreamer that seems to spend more time thinking about working on a boat than actually getting anything done
Part 1 So Little Time
Louise is a member of the RFYC Council, one half of the core web-team, and proud new owner of H-Boat Hopscotch. She summarises the ups and downs of winter boat ownership.
Fellow Sailors! We'd love to hear your thoughts, so send any maintenance or winter-related thoughts, pictures or stories to the web-team and be featured on the website!
The season ended with a bang (in my head as I got far too confident and nearly T-boned our friends on Hanna, emphasis on nearly) and it was time to begin our first winter of maintenance fun. Now I would learn what boat ownership was really about.
It's all about the stash
A few days after we received our accolades, most notably the Crew Cup, which my soggy companion gladly received in return for a stunning forward roll off the boat*, we were feeling enthusiastic about our brand. Scribbling of a new logo to be displayed on the boat, jumpers, t-shirts and anything else we were allowed to print on began quickly, started out rough
*I note that Mark disputes this fact and claims he certainly has no such grace. However, I would like to point out that your Skipper is always right, even when they are wrong
and progressed to the real world
But while we were suitably impressed with our PowerPoint efforts at Stash Mk1, it was time to ask a real artist and Leonie from Art and Sea was on hand to help us. We discussed the design and ended up fiddling with her suggestions, sending back this concoction:
It still needs some refinement, but never fear the email has sent and Leonie is working her magic as we speak. Soon we will have the enviable logos fitted to the boat.
This ladder is lethal!
Lift out was made so much easier by our fellow H-Boat sailors helping with endless tips and demos. Still, I managed to scrape the paint off the side of Hopscotch on the metal ladder underneath the crane these diddy fenders just won't do for my amateur Skipper skills!
I'm like a label maker in a strip shop! (That came out wrong )
'We need more labels!' I exclaimed as I jumped up and pulled out the folder of old plastic dividers, sticky labels and picked up the bouncy ball of rubber bands that has been sat there since mum thought of it as a 'fun' stocking filler ten years ago my gosh was she right!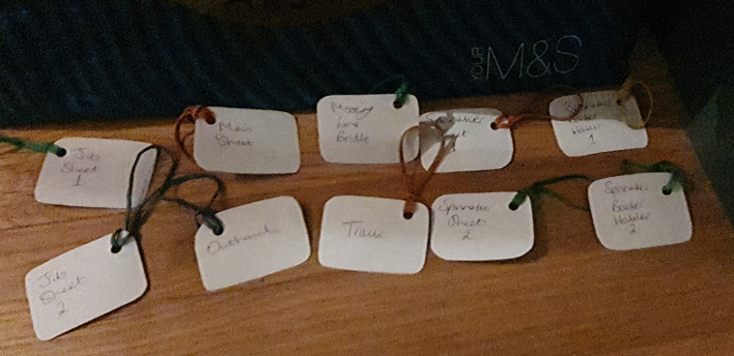 Readying ourselves to completely forget where everything goes on the boat, I prepared labels for each line, in separate bags for lift-in lines and the ones to stay fitted to the boat for racing. So organised, and I'm sure I will have forgotten something.
Sanding until sundown
I told Mark that I was writing a maintenance edit for the website and here is his response:
Good lord, a Winter post for Hopscotch. What would I write?
Day #58. Woke up this morning, sense of dread in the air. Sanded until sun-down went home.
Day #59. Awoke with a sense of cautious optimism. Skipped down to the yard. Pulled the day's duty sheet to see what task I'd been assigned. Sighed with a large exhale as I found my name and my finger traced along the line to the now familiar words "Hopscotch: Sanding".
Day #60 pushed the boat off into the sea. Never want to see a piece of sanding paper ever again. Took up crown green bowling. Makes me feel young again!
Hopscotch Crew
Mark has been incredible, sanding our beautiful Hopscotch perfectly, ready for her fresh coat of paint if the rain ever stops long enough for her to be painted oh, and it has to be above 10 degrees. Come on!!
Santa's been!
Christmas brought with it an array of wonderful sailing gifts, such as these fetching fenders (to ward off the evil ladder of doom) and a spare lifejacket.
The over-powering smell of Danish oil and varnish
At least it's an improvement on the black mould we accumulated over the summer season! I'm sure the varnish finish is nowhere as good as I thought I would be able to achieve, but a quick sand and final coat should do the job nicely.
Is this shackle supposed to be this bent?
One of the easiest jobs on our list was to replace some of the deck hardware we seemed to have bent, twisted and cracked over the course of some competitive racing.
#lifeofarealsailor
As the maintenance to-do lists became all-consuming, I pondered the merits of joining social media simply for the joy of sharing the first world problems of boat ownership with a highly critical audience of millennials, but thankfully for my sanity I decided to simply use my new moniker (I wonder if it already exists in the social media world?) in everyday conversation as much as possible, of course accompanied by a cringeworthy hashtag hand gesture.
It would be accompanied by photos such as these:
'If you hear a strange crackling in the night, I've just gotten confused between the sail and the duvet' My friend was staying the night for Hogmanay, sleeping in close quarters with the six sails occupying my spare bedroom.
My boyfriend tentatively called from the spare bedroom 'Have you seen these marks on the wall?' 'Yep, just the price of sailing.' I replied glibly, knowing that I probably should have moved the sails away from the cold outside wall. Ah well, it wasn't the best paint job I ever did anyway!
Stop telling Trello to chase me with your made-up deadlines!
As our Trello board became my go-to chores checklist and the flat was neglected in preference of more fun tasks, we began to organise the remaining maintenance tasks. My phone became a constant source of guilt for having not completed my tasks on time, along with all the items from the boat laying about my flat!
Hopscotch will be the purdiest boat in the harbour!
Buying the boat from fellow club members was an easy and painless task, so it was no surprise that we hadn't exchanged absolutely everything by the end of the season. The guys dropped the cushions off at the club to make them easy for us to collect and as a true engineer, I found a solution to walk the cushions home.
Excessive numbers of measurements were taken, both of the old cushions and the space on the boat, to confirm the requirements for new foam, fabric and even waterproof zips. This may be a longer project than I first envisaged but it will be so nice to be able to leave the new cushions on the boat, knowing they are waterproofed.
Published at last
As we considered our plans for the season to come, thinking of spinnaker practice, man overboard drills (hopefully not real this time!), I revisited photos I had taken of the ships log for various boats I had sailed on. We didn't have a logbook and I hadn't even considered logging races until it came to filling in a Yachtmaster logbook and I was strongly encouraged to record my racing prowess (read: ability to stay afloat).
As a fully-fledged millennial, I began my search in the obligatory way on the Amazon app. I found lots of logbooks which promised to record lengthy passages, engine hours, pilotage plans, and more, but nothing which would be quick and easy to record racing which lasts up to an hour and perhaps some hilarious tit-bits from our on-board natter (I note here that I am aware a severe chastising is on its way from our race coaches, the previous owners of Hopscotch, but it's worth it to have a chance at the Logbook Competition next season!).
Having long considered becoming a famous author/travel writer/full-time sailor during the more difficult days in the office, I already knew that Amazon offer an accessible publishing service that would do just fine here. I took a blank document, inserted a table and started listing the things I would want to record. Less than two hours later, I had chosen a stunning photo of RFYC racing outside Granton Harbour and with a few clicks out popped a book. I didn't order a copy right away, after all, we had plenty of time before the season would start and the book wasn't going anywhere. As I returned to the site to order my copy, to my surprise I noticed a little bar standing up on the reporting chart. I had earned a few pence someone in Germany had ordered my book before I had even seen it! I didn't expect anyone else to want it and what if it was terrible/useless/not a logbook at all?! Of course I immediately called mum and dad to extoll my concern, was placated in the usual way and ordered my copy.
When it arrived, quickly printed on demand, I was impressed with the quality for something that had taken so little effort to create. While I'm sure we will refine it in seasons to come, I'm looking forward to recording our every move next season and sharing it with you!
We're running out of time!
I am assured by our fellow club members that it's OK not to finish the entire to-do list in one winter. We still have so much to do and such little time to do it in. March and April will be busy
The Maintenance Edit Part 2
Part 2 Yard Stories
Mark is a member of the RFYC Council, one half of the core web-team and proud new owner of a LEGO racing yacht. He summarises the ups and downs of repaying his debts through hard-labour and offers a uniquely philosophical take on the rewards of sanding.
Fellow Sailors! Don't you have even better stories than this? Send them to us the web-team and let us bring you fame, fortune and glory.
What a year 2019 was! Caught the sailing bug, got a few open sails under my belt, experimented with a couple of practice race lessons from fellow club members then got swept off my feet (**quite literally) by the good ship Hopscotch as a member of its racing crew.
** In accordance with Maritime regulation #010170.6 we are legally obligated to ensure that SOLAS reminders are posted at least once every 500 words for some reason, according to my Skipper, this always seems to require reference to my swimming experience. Ho hum
The Forward Roll of Sanity
Evenings were drawing in at this point so all the weekday evening racing series' had long since finished. We made a good effort to enter as many of the weekend races as we could but it was over almost before it began. And then suddenly, one sad Friday morning, I stood on the harbour wall and watched forlornly as Hopscotch was torn from the water, salty tears streaming down her sides, until she was brought to rest on the trailer that would become her Winter home.
I didn't even have time enough to get to see her settled peacefully into her berth in the yard, with a weekend wedding to race off to. There was just time to numb the fingers jetwashing the first of the silt away, purely so the remaining barnacles could take a nice gulp of fresh air. Then it was upstairs in the clubhouse for a very quick coffee with our friends from Hanna who were amazing and deserve much thanks for guiding us through the lift-out process safely before I was saying my goodbyes and making tracks toward the airport.
Time to Fly
A Division of Labour
Following my return to Edinburgh, 'Skipper' and I divided the maintenance work between us. My first task by pure, random good luck was "Sand the hull ready to be repainted." Not everyone is born for such work and maybe not all of you reading this would feel so lucky to be awarded this assignment. But the other task, Skipper's task, was "Do everything else." So you see, some tasks just need the right context in order to appreciate them fully
Thus it was that my Thursdays would become a blur of repeatedly stabbing the refresh button on all the web-based weather forecasts I could find until one would suggest the remotest possibility of the conditions I was hoping for. I didn't want much. Just some clear-ish skies and to be dry enough not to turn me into a brilliant mains-conductor when attempting to use an electrically-powered sander outdoors.
Many a Saturday had me rising before dawn to be down at the yard at the earliest possible time for making unsociable and un-neighbourly amounts of noise as Hopscotch underwent a reviving exfoliation, the years of wear and tear disappearing until only a smooth and even skin remained. And though the work gave plenty of opportunity to gather one's thoughts, catch up on an engaging podcast series or to simply enjoy some truly great music in the waning Winter sun, it was not lonely work.
Congregation or Cult?
The Congregation
It turns out there's a congregation that gather at the yard, especially on Saturday mornings, all performing their own unique version of the same type of worship. There's camaraderie in their number. Advice can be sought, experience will be shared and generous invitations to enjoy a warm cup of coffee and to spend a few minutes in a toasty cabin out of the chilly Autumnal weather were frequent occurrences.
What I realised in my long quiet moments, while the noise-cancelling headphones reduced to a whisper the banshee-wail of the power-tool I held achingly overhead and the music carried me elsewhere, was that what I was really doing was nothing more than playing the anticipation long-game.
The Anticipation Long-Game
I wasn't really here in the yard, insulated against the cold with white paint dust coating me from head to toe. I was actually out there, practicing my tacking drills or racing round a mark. I was hauling up an anchor, or trying to figure out where the wind was coming from and remembering what the tide would be doing three hours from now.
I was travelling forwards through time and testing myself across a full season of racing. I was accumulating the experience required to be able to take on the Day Skipper practical course and exam, the compliment to the off-season Day Skipper theory course I was just about to embark upon. I was heading out on the water, alone, pushing my confidence to its limit by competing in the single-handed race. All this and more; anything but this, anywhere but here.
Boat maintenance needs to be done and the good owner leaves no stone un-turned in making their boat as sea-worthy as it can be. Beyond the safety aspects, it's just that much nicer isn't it, being on a boat that reflects the love poured into it during the off-season?
For the Second Time in my Life
But time and again, I found myself turning the words that end one of cinema's best loved movies to my own thoughts here in the yard. Maybe I need say nothing more than this
I Hope
I find I'm so excited I can barely sit still or hold a thought in my head.

I think it's the excitement only a sailor can feel.

A sailor at the start of a long journey whose conclusion is uncertain.

I hope I can make it across the water.

I hope to see my skipper and shake her hand.

I hope the Forth is as blue as it has been in my dreams.

I hope
See you all out there somewhere on the water again next season!
The Shawshank Redemption Hope
Last updated 14:31 on 13 August 2020